Gulbahar Singh with
Salil Chaudhury while composing music for the documentary " Sawa Ser Gehun"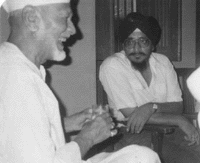 With Ustad Bismillah Khan during the shooting of the documentary on the first woman Shehnai Player, Bagesree Kamar, a disciple of Ustad Bismillah Khan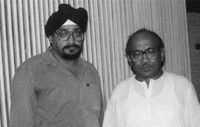 With Tarun Majumder in the children's film festival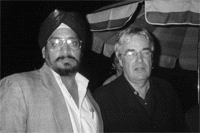 With Alan Parker, the famous director from UK.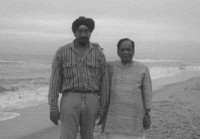 With Bala Murli Krishna, the Exponent of Carnatik Music on whom he has made a documentary film.

With Hema Malini, Chair Person NFDC, in Shanghai during the festival. The other man is Rajit Kapoor .

With Hrishikesh Mukherjee at the Award Giving Ceremony in New Delhi
Sundari - The film, a complex human drama, touches at many levels of our existence, focusing on greed, exploitation and the ultimate triumph of beauty, innocence and love over the seamy side of life. The film is based on a story by the eminent Bengali writer Ramapada Chowdhury. Cast - Sadhu Mehar, Anita Kulkarni, Samar Jai Singh, Vasist Tiwari and Master Amey Ambulokar. It was his debut feature film.
Everyday news of killing of lonely aged people featuring at the newspaper has become a common sight . The problem has become acute in a society where ties of family, cast and kinship have not remained that strong. With the changing situation, the problem of the aged in all its multifarious dimensions has raised its ugly head in the country. This brought Gulbahar Singh's attention to the problem of the aged. He came across a very sensitive short story which not only raised the question on the burning issue, but also culminated into a solution the result was Dattak, his second feature film. Cast - A. K. Hangal, Rajit Kapoor, Kritika Desai. The film is a NFDC production.
His film "Goal" depicts how good spirit and strong willpower come victorious . A boy, a sportsman, with real sporting gestures towards life comes out victorious against all odds posed against him and in the hard cruel game of life, scores goals. The touchy expressions of joy when life comes out victorious make the audience emotional.
Displacement in the name of progress leads to uprooting - this has become a world phenomena. The perennial question that arises in this case is that where finally these uprooted people will find a base. This surely marginalizes them in to a society. The backdrop of this situation lead the director to a beautiful story written by Sree Yadabendra Sharma 'Chander', a Rajasthani writer. A tiny element in this story influenced me to elaborate it into my story "Abaidha - The Demolition Man" where the protagonist of the story eventually finds himself in the same situation as displaced when he discovers his wife is having affair with another man. He considers this possession of his wife as illegal and leaves her for good. This is a Sunrise Media and Effects Pvt. Ltd. production. Cast - Chiranjit, Debasree Roy, Rajit Kapoor, Sumitra Mukherjee, Dulal Lahiri, Monu Mukherjee, Manjusree, Chandan Sen, Joy Sengupta & others.
Gulbahar Singh has been instrumental in vividly capturing our life, human relations, our traditions, our heritage and our culture through his lens over the years, the result of which are the series of great qualitative feature films, documentaries and TV productions.

Om Puri in Sawa Ser Gehun - A film based on Munshi Premchand's Story.

Biographical Documenttary on
Munshi Premchand